Adam Quang Press Coverage:
Become a patron and help me spread happiness and kindness through art and wellness today. [ CLICK HERE ]

HONORS & AWARDS
International:
♣ 1993 representing Eastern Canada, Smirnoff International Competition for Young designers' competition
♣ 1992 finalist in International Cattier Competition for young designers

Canada:
♣ 2003 Named by STYLE magazine "Notable New Label"
♣ 2002 "SENATE GALA" fashion show on our capital hill in the Parliament building, Ottawa

Quebec:
♣ 2002 winner of Bal Des Fleurs 1st place for fashion category and 3rd place for public choice
♣ 2001 winner of Excellence Young Quebec Designers Award competition

An impromptu interview with Avery Haines (@CityAvery) from CityTV in Toronto #DiscoHelmetTO

On my way home frm @CityNews I stopped this stranger+had no idea I was playing into his master plan. #DiscoHelmetTO pic.twitter.com/WcFlNjJqOA

— Avery Haines (@CityAvery) July 26, 2016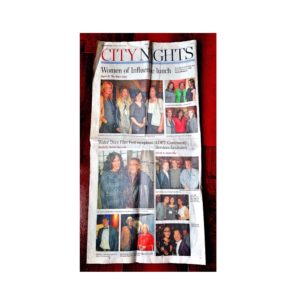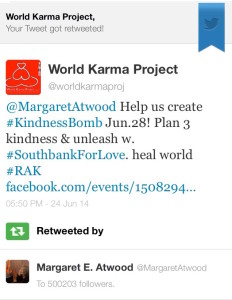 • Toronto Star – City Nights / March 26, 2016
• Human Family project "Adam" by Jeff Bowen / Aug 28, 2015
• Southbank Centre's Festival of Love: SUNDAY TALKS AND WORKSHOPS. London Uk, Jun.29.2014
– Adam Quang (director of the World Karma Project) on karma, love and how to live to a 110
• Colorful Radio / London UK with Lisa Bent Jun.29.2014
– Adam Quang in a fun interview with Lisa Brent on Kindness & Self Acceptance at Colourful Radio studio, London Uk 2014
– The Youbute video have interval pictures and videos of the #1000ActsofKindness installation art from Southbank Centre: Festival of Love opening weekend 2014.
[youtube]https://www.youtube.com/watch?v=vRrteblNUKs[/youtube]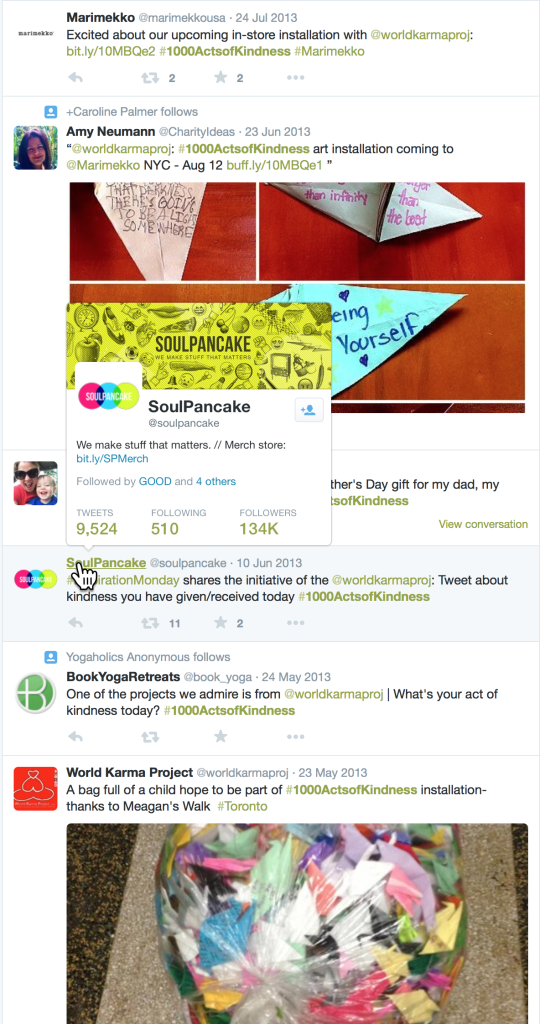 •Colorful Radio / London UK with Lisa Bent Jun.29.2014
• "CLOSE ENCOUNTERS" Time Out London, UK. Jun 24-29.2014
• "TRY TO BE NICE" EMERALD STREET. London. UK Jun.26.2014
•CBC – Ontario Today: "Entrepreneurs in the wired world" #1000ActsofKindness – July 3, 2013
• thestyliste.com "1000 Acts of Kindness _ Adam Quang spreads the LOVE" by Deidre Hackman May 12, 2013
• 50 Good Deeds "Ha Long Bay, Hello " Nov.23-2012
• International Lifestyle Magazine-Jul-2012
• icelandpenny "Old Trail, New Friends" May 25. 2012
• Fab Magazine – Toronto" Beyond Couture" February 15, 2012
• 50 Good Deeds "Ha Long Bay, Hello " January-20-2012
• Asian Fusion Magazine New York City– winter 2011/2012  "A Lychee Nut in the Big Apple" by mary baxter
• Vancouver YOGA Review "Rejuvenate The Soul In Vietnam With The World Karma Project" Nov-3-2011 by TAYA
• Toronto Sun "Miss Teen Toronto searches for a new dress" by MIKE STROBEL / Apr 5, 2007
• Latin Life TV : July 28 2006
• EL Negocio Redondo newspaper: "Teatro! Cine! Plus!" July 27 2006
• Toronto Sun "It's pay it forward time" April-24-2006 by Xania
• CBC radio one 88.5 FM "HomeRun: New Hope/ Karma Project" June-3-2005 with Bernard St-Laurent and Sara Germanotta
• CBC radio one 88.5 FM "HomeRun: New Hope/ Karma Project" May-28-2005 with Bernard St-Laurent and Sara Germanotta
• Clin D'oeil magazine : "Fesses" May 2005 by Yasmin Grothé
• Flare magazine: 'Flare Was There" March 2005 by: Hina P. Ansari
• Style magazine: "Who's news" January 2005
• Toronto star newspaper: "Return of the Killer Giller dress" November 11-2004 by Star staff and wire service
• Rogerstelevision.com: "2004 Fine Print Giller Special Skirts The Issue Of Glitz" Nov 2004
• Style magazine: "FYI" November- 2004
• Front page of Arts & Life section in Globe & mail newspaper: "Glam Lit" October-28-2004 by Vanessa Farquharson
• Globe & Mail newspaper: "one-of-a-kind finds" March 23-2004 by Leah McLaren
• The Gazette newspaper: "yoga for the not so young" May-29-2004 by Susan Kelly
• The Gazette newspaper: "Adding accessories" February 07-2004 by Susan Kelly
• Flare magazine: 'Flare Was There" January 2004
• Fine print TV show: 2004 host by Carolyn weaver
• Style magazine: "Getting fresh" November 2003 by Ms. Marilyn Morley
• CBC TV: "Giller prize gala" November 4 2003
• Bravo! TV: "Giller prize gala" November 4 2003
• BookTV TV: "Giller prize gala" November 4 2003
• Globe & mail newspaper: "Now that's a Giller dress" October 25 2003 by Leah McLaren
• Ottawa citizens: October 2003
• Fine print TV show: September 2003 host by Carolyn weaver
• Metro newspaper: 'Le charme du "fait main"'August 26 2003 by Yasmin Grothé
• Style magazine: "Notable New Labels" December 2002 by Ms. Marilyn Morley
• Lucire.com: "the global fashion magazine" December-28-2002 by Susan Kelly
• O.D.LifeStyle.com: "spring 2003 Collection-Woman: Emotions in Evolution- Designed by Adam Quang" August 11 2002 by Jennifer Thompson
• The Gazette newspaper: "Show biz is the buzz at design contest" April 24 2001 by Iona Monahan
• Voir newspaper: "cahier V" April 11 to 17 2002
• Elle Québec magazine: "dernier cri" March 2002
• Voir newspaper: "cahier V 'impressions'" march 21 to 27 2002
• Voir newspaper: "Babillard" February 7-13 2002 by Josée Laferriere
• The Gazette newspaper: "Montreal designers captive Toronto" September 25-2001 by Eva Friede's
• The Gazette newspaper: "Montreal fashion week" September 11-2001 by Eva Friede's
• The Gazette newspaper: "City a la mode" September-5-2001 by Eva Friede's
• La Presse newspaper: "Montreal fashion week" September 5-2001
• CBC radio Canada international China: April 28-2001 host by Beijia Lin
• Les idées de ma maison magazine: March 2000
• Decormag magazine: cover July /August 1999
• The Gazette newspaper: Smirnoff international awards 1993
• Music plus TV: fashion segment 1993
• Smirnoff Completes phase Two-Style magazine / Apr.12-1993